Project Management
For over the last 7 years MB has demonstrated its ability to successfully manage industrial projects of all types and sizes, in all parts of the world.
Our project management experience covers all types of services and contracts, ranging from project management consultancy services as well as all types of contractual relationships.
Project management the MB way
Key to MB's successful track record is our approach to project management, which comes into play even before the contract has been won, during the bidding phase.
MB is very selective in the projects it bids for.  Each project is evaluated and selected on its own merits and no market share or asset utilization target supersedes this rule.
Once a project has been awarded, the Project Director has full authority and is the single point of accountability during all phases of the project.
Projects are monitored closely by Senior Management through monthly project reviews.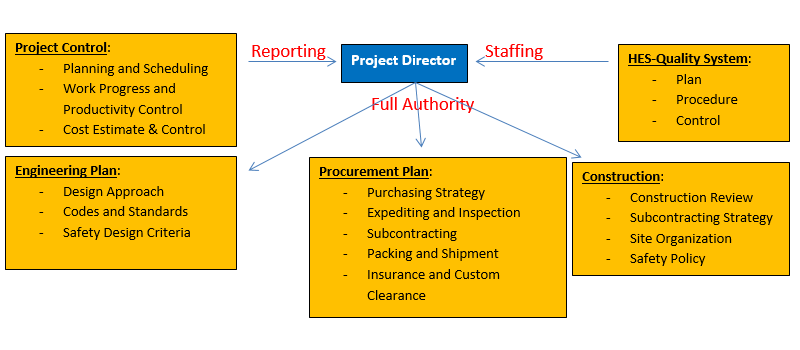 MB, as a major player in large size project implementation has developed a complete and comprehensive expertise in project management. This expertise is part of a the added-value service that MB provides to its Clients for all types of contracts, irrespective of its size.
MB's risk management process encompasses all phases of the project lifecycle i.e. it starts during pre-bid reviews of the invitation to bid (ITB) and ends only when all the contractual obligations have been fulfilled. Throughout these phases (bid preparation and project execution), all aspects such as commercial strategy, financial assets, contractual, technical, safety, environment are evaluated with respect to uncertainties or risks for the Project, Client and MB.
Risk management requires total project team involvement and it is essential that all key members of the project team understand the project baseline, the risks anticipated as well as planned mitigation measures. MB's Project Management teams are well aware and versed in this requirement and are actively involved.
"One Team" Approach
MB partners with our customers to form "One Project Team" to ensure that their vision and project objectives are achieved. We believe the only way to a successful project is through a true cooperative team spirit. We start each project by establishing a collaborative platform via open communication, transparency and a willingness and ability to continuously adapt in order to drive towards the common project objectives.
Operational Excellence
MB's business focus is centered on achieving operational excellence on all of our programs and projects. The key attributes of operational excellence we employ include:
Application of industry standard processes and procedures, best practices and lessons learned
Focus on safety and quality
Ability to integrate our project management systems into existing customer platforms
Innovations to drive cost and schedule performance
Aggressive risk management
Flexibility to develop alternate business and contracting strategies
Fun Facts
We Are The Leader In The Industry
We are not satisfied simply meeting industry standards. MB is dedicated to growing in size, scope, and performance.