Engineering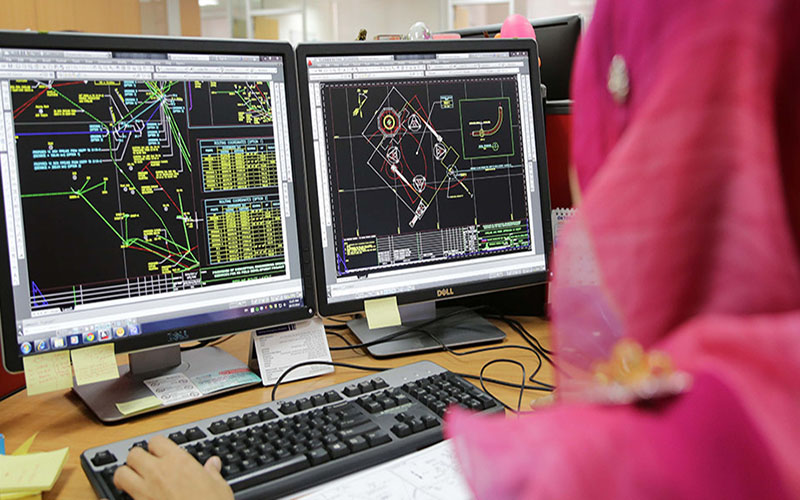 After the conception design phase and feasibility studies a project enters the engineer phase during which engineering studies which may include, according to the type of project:
process
pressure vessels
rotating equipment
instrumentation
electrical facilities
computing
piping, civil works
cost control and scheduling
All these types of engineering studies are covered and fully managed within MB. According to the nature of a project, engineering studies will includes all or part of the following steps:
Conceptual process studies (material balances, process flowsheets,…) and preliminary plot plan.
Preliminary Piping and Instrument Diagrams.
Definition and sizing of main equipment resulting in process specifications.
Specification of effluents.
Definition of control and safety devices.
And, generally speaking, all the basic studies required to support a Basic Engineering Design Package (BEDP) containing all data needed by a competent contractor to perform the Detail Engineering.
These basic engineering studies may consist of consolidating a Process Package initiated by an external process licensor.
Mechanical data sheets of the main equipment, starting from the process specifications issued during the BED and incorporating the specific requirements of codes and standards to be applied to the project in question.
Thermal rating of heat exchangers.
Preparation of tender packages for the main equipment.
Development of process and utility Piping and Instrument Diagrams released for detail engineering.
Development of detailed plot plans and hazardous areas.
Elaboration of the main piping, instrument, electrical and civil works layouts.
And, generally speaking, all the studies to be performed before ordering the main equipment.
Purchasing of equipment, main and bulk.
Thermal rating of heat exchangers.
Development of Piping and Instrument Diagrams released for construction.
Development of detailed piping drawings, including isometrics and stress calculations.
Development of detailed drawings related to instrumentation, electrical facilities and civil works.
Management of vendor drawings.
Cost and schedule control.
Start-up procedures.
Expertise around the World
MB's engineering expertise extends around the world and across a variety of disciplines, adding value through every phase of a project. We assign specific types of project work in certain offices, allowing our engineers to develop specialized expertise. Then we connect the offices into a worldwide network of engineering centers located in Emirates UAE , to better serve the diverse geographic and technical needs of our clients while ensuring consistent standards.
Cutting-edge thought Leaders
Our engineering staff is composed of highly-experienced, dedicated professionals. More than a third of our engineers have advanced degrees, and many are considered leading experts in their fields. Our engineers are active in national and international committees responsible for the technical codes and standards.
Using Optimum Tools to get the Job Done
Our engineers and designers use sophisticated proprietary and in-house software to monitor and manage every phase of our projects, from concept design through construction and startup. These tools allow us to efficiently and accurately develop schedules, allocate resources, monitor work progress, track costs and provide detailed reports for our customers. They enhance our ability to deliver projects on time, on budget and with superior results.
Fun Facts
We Are The Leader In The Industry
We are not satisfied simply meeting industry standards. MB is dedicated to growing in size, scope, and performance.